Home | WLYN | WMBR | Boston Groupie News | Punk Photos | MP3's | Links
Jonathan Richman | Dogmatics Photo | Paley Brother's Story
Boston Sound Home Page
Eden's Children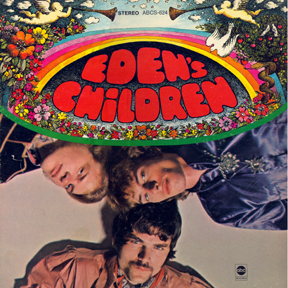 In the dark depths of the Bosstown Sound backlash it would be hard to champion your scene amidst charges of 'plastic' and 'lame'. This was the time we threw Eden's Children in their face. Their album was released just after the initial brouhaha so they wern't lumped in with the other groups as much. When they were they held their own. See the Jazz and Pop Review here to confirm this.
Eden's Children were on ABC records produced by heavy hitter Bob Thiele and they even sounded a little different than the rest. They were more gritty. Still psychedelic they were closer to Hendrix than the Grateful Dead. They were top of the heap for many locals as illustrated in the poll I have included in the radio broadcast on the main page.
Their first LP is self-titled Eden's Children and is another album that was always played at parties. Packed with good songs and playing, it never flags.
The Children were a three piece group. All were very good players. Larry Kiley the bass player and Jimmy Sturman the drummer were a constantly interesting rhythm section. The main songwriter/singer was Richard 'Sham' Schamach who was also a great guitar player.
If you put on the second Eden's Children album, you first hear the song Sure Looks Real It sounds similiar to the songs on the first album but as the album progresses it seems like something is wrong. This reminds me of what happened to the second Spinach album (although their case was much worse). You have all the elements of the first album but the sound has been eviscerated. It's flat and thin even though the playing is just fine. I throw the blame here on the engineers at ABC. In this case they seem like they don't know how to record a rock group. The bass has no punch at all even though Kiley is playing just fine. The guitar tone on Things Gone Wrong solo is so bad that the person responsible should spend time in a Donald Rumsfeld run prison.
It's not a wash out and a dedicated listener will hear good songs and playing minus a punchy group sound.
I always remember them to get good reviews but here's an exception from GO Magazine 11/23/1968.
They say:
"The Boston scene has turned out to be similar to the West Coast scene. Too many artists were "discovered" and signed to record because "that was where it was happening, man" and everybody' wanted part of the action. EDEN'S CHILDREN are one of the many Boston groups who have been performing in that area for a while and have an album out this week for ABC. They are talented, but their first album is far from being a knock out.
The rock oriented sides are held back by melodies, lyrics and bass work. None is exceptionally strong which gives the album an overall effect of being bland.
Side One starts with Knocked Out, a fast rock number that, like the rest of the material on the side, was written by group member Richard Schamach This is a good number but like the other five cuts that follow it nothing really exciting happens to make you want to play it again. Side Two has only three cuts on it, one of which is a fairly long instrumental. Like the first side there is a lack of inspiration. Eden's Children show a strong potential on the album and a certain amount of direction. Now all they need to be is a little more critical of the material they record."
Now the statement, "The rock oriented sides are held back by melodies, lyrics and bass work." is just crazy or a misprint or there's a word missing or something.
The first LP did chart even if low with number 196. Below see the Billboard chart for March 16, 1968. Their company is Orpheus and the Velvet Underground.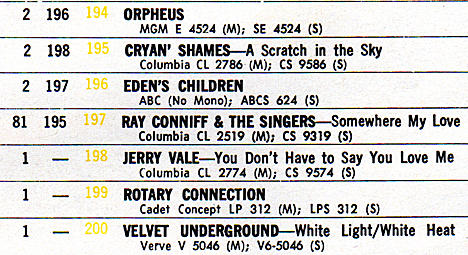 Eden's Children never got the attention that they deserved. Alan White over at the NEMS site says that Richard 'Sham' Schamach was on the radar at some point claiming to have a live tape that he was going to release. Well, Sham, please before we all die, get it out.
There is an Eden's Children track on the compilation called White Lace and Strange released in 2007. Click to go to review of White Lace and Strange.
Boston Sound Home Page
Home | WLYN | WMBR | Boston Groupie News | Punk Photos | MP3's | Links
Jonathan Richman | Dogmatics Photo | Paley Brother's Story
Copyright © 2006 Paul Lovell. All rights reserved.