PAUL "BLOWFISH" LOVELL
Home | WLYN | WMBR | Boston Groupie News | Punk Photos | MP3's | Links
Jonathan Richman | Dogmatics Photo | Paley Brother's Story
Boston Sound Home Page
The Boston Tea Party Club
The 40th Anniversary for the Boston Tea Party was celebrated in January of 2007. Click here for the story of the get together.

This shows Jeff Beck on the Boston Tea Party stage. The last two letters of LORD can be seen at the top. If I remember right this was from a calender put out by Fusion Magazine.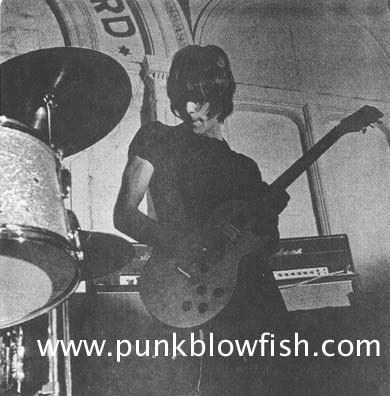 Ray Riepen
The mastermind behind the Boston Tea Party club was Ray Riepen. Riepen is a legendary character . Besides the Tea Party he started WBCN and The Phoenix. He had vision and smarts. His story can be found in the book Mansion on the Hill by Fred Goodman which covers the rise of the counter culture business man.
Here's a fantastic picture of Ray on stage at the Tea Party from someone taged WilsonB on Flickr. Be sure to check out the other pictures in the series which include some Tea Party posters and newspaper ads that feature the Film-Maker's Cinematheque: the theatre that coexisted with the Tea Party at the beginning....Ray Riepen photo
The Road Light show
One of the things that made this era special as far as clubs go is the light show. In the Boston Tea Party this was the work of a group of four called The Road. The lights you see in the back of the Jeff Beck Group picture on this page would be their work.
One of the members of this group was Ken Brown who has gone on to be a notable illustrator and short film maker. It was a great surprise to have Ken show some of the films that were projected on the walls of the Tea Party at the Coolide Corner Theatre on September 25, 2008 a full forty years after the fact. It was quite a night and I have a short report here...Ken Brown Films at the Coolidge Corner Theatre.
Mentions of the Boston Tea Party.
The Tea Party is still referred to fondly by the musicians that played there. The lattest I've heard was on March 18, 2008 when Brian Auger was being interviewed on the Lost and Found show on WMBR at MIT. He said that the first place he played in America was the Tea Party and that many Britsih acts did play Boston first as a ramp up to going to NYC.
---
Boston Tea Party Facebook page.
---
Video of Stanley (stage manager) and Eddie( assistant sound mixer) for the Boston Tea Party .
---
This is an interview with Steve Nelson who managed the Tea Party.
It also has a picture of Jeff Beck and Led Zeppelin at the club. Steve Nelson interview.
A letter by Steve Nelson from Feb 16, 2011 that links trends from 1858 to 1967 to 2011STEVE NELSON LETTER - GLOBE
Boston Herald Article
I came across a story about the in a magazine included in the Boston Herald of February 22, 1970. The story is written by Timothy Crouse and riddled with errors and a few typo's. The club had moved to an old warehouse on Landsdowne Street by this point. It was originally a club called The Ark which failed as the Tea Party was looking for a bigger place and they took it over. 14 color photos of some light show action were included. They have an interview with Don Law who was running things at this time. Here, I will cherry pick paragraphs that deal with the early Tea Party..........
Law and his Boston Tea Party.
The Tea Party, of course, has not always enjoyed its present pre-eminent position or, for that matter, its present locale, hulking behind the bleachers, of Fenway Park. It began as the project of a group of local underground film-makers, titled Films Cinematheque, who felt that they needed a psychedelic salon. They were in it mainly for the good times, and they chose an abandoned temple at 53 Berkeley St. for their room. An M.I.T.-based mechanical wizard named David Hahn contrived the light show, which was run from a secondhand Univac which he had picked up for five dollars.
The Tea Party opened in December of 1966 (? The club opened on January 20, 1967-ed). On the first night, says Law, 400 friends showed up, but the amazing thing was that 300 paying customers showed up as well. In the early days, Law recalls, the audience was an incredibly strange mixture. You'd have four nuns in the balcony, a couple of Harvard professors around for a look, 14 girls from Dorchester and a guy from M.I.T. It was basically the scene for the Cambridge aristocracy. Somewhat awed by the proportions of the former temple and the newness of it all, the teeny-bopper element stayed away. Although it booked very few good acts and ran on a shoestring, The Tea Party flourished under the imaginative direction of its owner, Ray Riepen. Financial success lasted precisely as long as the novelty did.

The scene attracted a broader audience every week, but eventually they got bored with it. Don Law, who did not particularly like the old set-up realized that the Tea Party's fascination as a new, multimedia environment was fast dying. The son of an entrepreneur who had been the first man to record Robert Johnson, Flatt and Scruggs and the Carter Family, he knew how to book good acts. Two years ago this spring he went into partnership with Riepen, and the music at the Tea Party improved radically. The club continued to to be run on a casual basis however. The girl who handed out Cokes also ran the sound system. Hearing a squeal of feedback, she would wheel around from the soda dispenser and grope for the right knob on the console. Ten- thousand-dollar acts were at her mercy. When competition cropped up, the Tea Party fought it off with wiles and by virtue of the fact that it was the established club, the place where people went by force of habit. (It is axiomatic in the rock industry that no town, even as mammoth as New York, can support more than one large rock ballroom. Newcomers arise by the hundreds and usually go down to swift defeat.)
| | | |
| --- | --- | --- |
| Light show | The Who | Light show |
The Crosstown Bus, for example, opened in Watertown (Wrong - Brighton - ed.). On one of its first weekends, it booked The Doors, then the hottest group in the country. To counter, Riepen brought in Andy Warhol's group, The Velvet Underground, and and announced that Warhol would be filming at the Tea Party. Girls from miles around turned out in their showiest clothes and fanciest hairdos, lining up for about six blocks to wait for a break-through in underground films. The Crosstown Bus hardly knew what had hit it. Within a few months it was out of business. Just over a year ago. the ill-fated Ark opened and closed within 17 weeks, losing about $400,000 The Ark tried to create a tame, elegant aura of psychedelia and sell it to the tie-and-jacket crowd. Its owners created a second - rate version of New York's Electric Circus. They were three- and-a-half years behind the time in a business where, if you're four months late, you're dead,.... says Law.
....The Ark, people said, Look at that dump on Berkeley street, there's no reason why it should be succeeding, says Law. They were right, it was a dump, but it had a following. ....Of course, we tried to help them every way we could, he says, beaming mischievously. We told them, yes, environments were really where it was at, and yes, we were amazed at how quickly they had grasped the obvious..... But the Ark sank even before it opened. Its owners had been ...art hustled... into believing that computerized art had a brillant future, and they had invested thousands in a virtual IBM complex to run a mediocre light-show. They left no financial reserves with which to pay for talented acts. Within weeks they faced their desperate financial situation and sold out to the Tea Party. Thus the Tea Party now sits in the Ark's old headquarters on Lansdowne Street. The full-time staff has shrunk from the Ark's magnificent maximum of 45 to a bare minimum of three.
..At the old Tea Party, the audience danced more than they have ever danced since. They didn't do the frug or the Monkey or any of the other dances that were being systematically exploited by AM readio. They simply moved.
---
Jimmy Page on stage at the Boston Tea Party

| | |
| --- | --- |
| | |
"I can tell you when I knew we'd broken through, which was at San Francisco. There were other gigs, like the Boston Tea Party and the Kinetic Circus in Chicago which have unfortunately disappeared as venues, where the response was so incredible we knew we'd made our impression...but after the San Francisco gig it was just...bang!"

Jimmy Page quoted from CREEM Magazine May 1974 .
John Paul Jones recalls the show:
As far as I'm concerned, the key Led Zeppelin gig - the one that put everything into focus ... was one that we played on our first American tour at The Boston Tea Party. We'd played our usual one-hour set, using all the material from our first album and Page's 'White Summer' guitar piece and, by the end, the audience just wouldn't let us off the stage.
It was in such a state that we had to start throwing ideas around ... just thinking of songs that we all might know or some of us knew a part of, and work it from there. So we'' go back on and play things like 'I Saw her Standing There' and 'Please Please Me' ... old Beatles favorites. I mean, just anything that would come into our head, and the response was quite amazing.
There were kids actually banging their heads against the stage .... I've never seen that at a gig before or since, and when we finally left the stage we'd played for four and a half hours. Peter (Peter Grant ... Zep's manager) was absolutely ecstatic. He was crying and hugging us all. You know… with this huge grizzly bear hug. I suppose it was then that we realized just what Led Zeppelin was going to become......
More info from a Led Zeppelin website...... http://www.ledzeppelin.com/venue/boston-tea-party
Zep on the Tea Party stage - http://ledzeppelin.com/image-galleries/led-zeppelin/1968-1969?page=4
Zep on the Tea Party stage in color from the stage and showing the club floor - http://ledzeppelin.com/image-galleries/led-zeppelin/1968-1969?page=10
---
This is from The Tech a MIT student newspaper from 1967.........

Appearing Saturday and Sunday nights at The Boston Tea Party are the Chambers Brothers, currently on the pop record charts with their song "All Strung Out." Well known around Boston, they are famous for their blending of pop, gospel, and blues. Also started last month and continuing at 53 Berkeley in Boston is the local branch of Film Maker's Cinematheque and the Boston Tea Party with experimental lighting and electronics by an MIT graduate. With the establishment of the Cinematheque, Boston has become one of the best cities in the country for experimental film and the small colony of Underground film-makers is growing rapidly. Stop in Tuesday to Thursday evenings. Their program usually features the works of individual film-makers who frequently are in attendance to discuss their work; January, Harry Smith and Gregory Markopoulos made the trip to Boston. Of course, our own Film Society is very active and Stan Brakhage will be at the Institute sometime in April. Weekends the Cinematheque literally and figuratively sheds its skin to become the Tea Party. Boston's first environmental light show and dance perhaps more accurately described as light show and crush...
---
The Jeff Beck Group at the Boston Tea Party.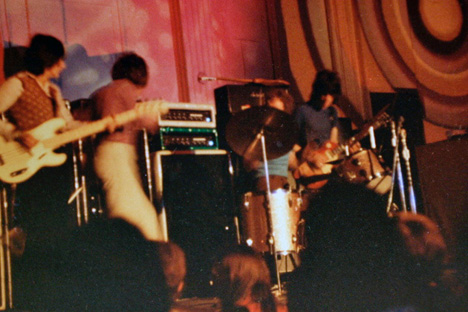 ---
From WORLD MAGAZINE August 09, 2008
"Summer of '68"
Boston Tea Party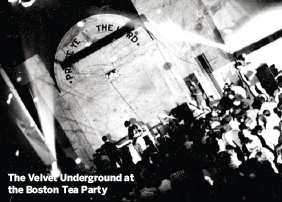 In Boston, three events from March and April 1968 contributed to long-term change. One signaled a cultural revolution. It began at a live-rock club, the The Boston Tea Party, where Led Zeppelin, Mothers of Invention, The Velvet Underground, Cream, and other now-famous groups performed. The club's entrance sported panels featuring the names of those who had given light to the world—Prometheus, Edison, and others—but the club itself flickered with strobe lights, kaleidoscopic patterns, pulsating blobs of color, and shots of Campbell Soup cans.
The Tea Party gained significance beyond its location on March 15 when local radio station WBCN began broadcasting a daily seven-hour nighttime program from the club. WBCN to that point was FM-standard 40 years ago: It played classical music and lost money. The AM dial, meanwhile, emphasized two-minute pop "bubblegum" tunes. But when WBCN starting making big bucks with longer, darker, harder rock songs, other stations in what was called "underground radio" followed, reinventing FM radio as they went.
......(The article goes on to mention the James Brown concert on the day of MLK's death and a tent city protest against the BRA)
---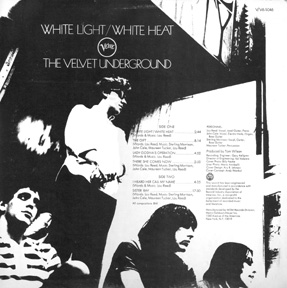 The Music Museum Of New England site (www.mmone.org) which is ramping up now has posted a Steve Nelson picture of the Boston Tea Party sign. The corner of this sign can be seen in the upper right corner on the back cover of the Velvet Underground's White Light/White Heat album, seen here to the right.
The Velvet Underground played the The Boston Tea Party many times and it has been often stated that it was their favorite place to play. This was reinforced again in a nicely detailed article of the Velvet's early days in UNCUT magazine (December 2009 No. 151 by Allan Jones) where it reveals that Nico got the boot at a The Boston Tea Party gig.
"In May, they sack Nico. She turns up late for a show at the The Boston Tea Party, which has become their favorite venue. They won't even let her on stage."
---
Film of the Boston Tea Party

On April 16, 2011 Emerson College screened a film by Andy Warhol from 1968 of the Velvet Underground at the Boston Tea Party.
This film basicaly had never been seen out side of the time it was made as far as any one can tell. What a find. It looks like Warhol made this film himself just walking around the club. Much of it is from the balcony where the light show was located and he focuses on that now and then. The film ts impressionistic, by that I mean it is not a good concert film the sights and sounds are distorted on purpose and because of the limits of the camera. The VU came though in tantalizing snippets. You could hear the classic songs and sounds and realized that yes, they were great live.
The club could be seen in all its glory. Multiple light shows being shown on all the walls and the ceiling. I had forgotten about the disco ball above. There was the hippie dancing that has been recreated in tons of films done here live in the day, amazingly cool. This is a priceless artifact of the Boston rock scene during the late sixties. It's a huge gift to have film of this group and club during their prime time.
The only one I recognized in the film was Ed Hood the legendary socialite. He hung with Warhol but I'm not sure about the timing. Did Hood know Warhol at this time?
Steve Nelson, the Tea Party manager for a few years, gave a great intro giving the background of the club. .
---
Here is a list of the bills at the Tea Party
recreated mostly from handbills/posters
by Joan Kershaw
1967
Jan
20 + 21 Fri-Sat The Lost
27+28 Fri-SatThe Lost
3 +4 Fri-Sat The Lost
Feb
3 +4 Fri-Sat The Lost / Catharsis
17+18 Fri-Sat Beacon Street Union / Hallucinations
24+25 Fri-Sat The Cloud / Bagatelle
March
3-4 Fri-Sat Hallicunations/Edens Children/Bagatelle
10+11Fri-Sat Lothar & the Hand People/Orphans
17+18 Fri-Sat Lothar & the Hand People/The Hallucinations
24-25 Fri-Sat The Bagatelle/The Growth
April
14-15 Fri-Sat Lothar & the Hand People / Front Page
21-22 Fri-Sat Lothar & the Hand People / Hallucinations
28-29 Fri-Sat David Blue and the American Patrol / Ill Wind


Poster courtesy of Joan Kershaw.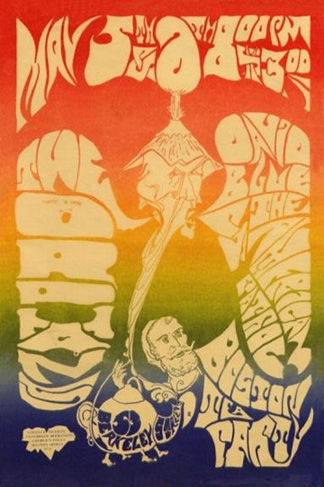 May
5+6 Fri-Sat Orphans / David Blue and The American Patrol
12-13 Fri-Sat The Lords and Ladies / The Orleans
19+20 Fri-Sat Beacon Street Union / Children of Paradise
26-27 Fri-Sat Andy Warhol's Velvet Underground / Ferris Wheel
June
2+3 Fri-Sat Hallucinations/Jeremy Steig
9+10 Fri-Sat Andy Warhol's Velvet Underground/Beacon St Union
16+17 Fri-Sat Ill Wind / Hallucinations
23+24 Fri-Sat The Grass Menagerie/ The Beacon Street Union
30 Fri Lothar & the Hand People/The Shakers
July
1 Sat Lothar & the Hand People/The Shakers
7+8 Fri-Sat The Ragamuffins/The Street Choir
14+15 Fri-Sat The Peanut Butter Conspiracy/90th Congress
21+22 Fri-Sat The Free Spirit/The Shakers
28+29 Fri-Sat The Paupers/Bagatelle
August
4+5 Fri-Sat Peanut Butter Conspiracy/Bagatelle
18+19 Fri-Sat Hallucinations/The Ultimate Spinach
25+26 Fri-Sat Country Joe and the Fish
Sept
1+2 Fri-Sat Catharsis/The Mushroom
8+9 Fri-Sat Canned Heat/90th Congress
15+16 Fri-Sat Wildflower/The Bagatelle
22+23 Fri-Sat The Mushroom/The Hallucinations
29+30 Fri-Sat Children of Paradise/Beacon Street Union
Oct
6+7 Fri-Sat Canned Heat/Ultimate Spinach
13+14 Fri-Sat The Luvs/The Grass Menagerie
20+21 Fri-Sat Phluph/The Cloud
27+28 Fri-Sat Sidewinders/Bagatelle/Hallucinations
Nov
3+4 Fri-Sat The Bagatelle/The Mandrake Memorial
17+18 Fri-Sat Butter/Bo Grumpus/Salvation
24+25 Fri-Sat The Ultimate Spinach/The Baul Singers & Dancers of Bengal
Dec
1+2 Fri-Sat Kaleidoscope/ The Chain Reaction
8+9 Fri-Sat Clear Light/The Street Choir
15+16 Fri-Sat Richie Havens/The Bagatelle
22+23 Fri-Sat Lothar & The Hand People/Beacon Street Union
29+30 Fri-Sat The Hallucinations/Children of God
1968
Jan
5+6 Fri-Sat The Cloud/Ill Wind
12+13 Fri-Sat Ultimate Spinach/The Colt Brothers/Conception
19 Fri Festival of the Boston Sound
Beacon St Union/Butter/Hallucinations
20 Sat Festival of the Boston Sound
Bagatelle/Jessie's First Carnival
26+27 Fri-Sat Tim Buckley/Nazz
Feb
2+3 Fri-Sat H.P. Lovecraft/ Butter
9+10 Fri-Sat Eric Andersen/ The Grass Menagerie
16+17 Fri-Sat The Bagatelle/The Apple Pie Motherhood Band
23+24 Fri-Sat The Peanut Butter Conspiracy/PPMWW
March
1 FriThe Chambers Brothers/South End Hate Band
2 SatThe Chambers Brothers/Hallucinations
8+9 Fri-Sat J. Geils Blues Band/Canned Heat
15-16 Fri-Sat The Beacon Street Union/The Hallucinations
22+23 Fri-Sat Velvet Underground/United States of America
29+30 Fri-Sat Ultimate Spinach/Butter
April
4 Thurs Muddy Waters w/Otis Spahn/The Hallucinations
5+6 Fri-Sat Amboy Dukes/The Tangerine Zoo
11 Thurs Yardbirds/Steve Miller Band
12 Fri Yardbirds/Steve Miller Band/Cloud/Earth Opera
13 Sat Yardbirds/Steve Miller Band/Earth Opera
18 Thurs B.B.King/Cloud
19+20 Fri-Sat Siegal Schwall Band/J Geils
25 Thurs Procol Harum/ The Hallucinations
26 Fri Howling Wolf/The Beacon St Union / The Hallucination
27 Sat Howling Wolf/The Beacon St Union
May
2 Thurs Traffic / Butter
3+4 Fri-Sat Butter / Clear Light/Tim Rose
9-11 Thurs-Sat Blue Cheer / Quill / Bagatelle / The Hallucinations
16 Thurs Velvet Underground / Hallucinations
17+18 Fri-Sat Velvet Underground / Bo Grumpus
23-25 Thur-Sat John Lee Hooker / Hallucinations/Quill
30+31Thurs-Fri Van Morrison Controversy / Ill Wind
June
1 Sat Van Morrison Controversy / Ill Wind
6-8 Thur-Sat The Cloud / Group Image
13-15 Thur-Sat Quicksilver Messenger Service / Hallucinations
19-22 Wed-Sat The Bagatelle / J.Geils Blues Band
July
4-6 Thur-Sat The Ultimate Spinach / Listening
18-20 Thur-Sat Lothar & the Hand People / The Hallucinations
25-27 Thur-Sat Beacon Street Union / The Cloud
August
1-3 Thur-Sat The Nazz / Kaleidoscope
8-11 Thur-Sat Staple Singers / Bo Grumpus w/Felix Pappalardi
15-17 Thur-Sat Eden's Children / The Velvet Underground
22-24 Thur-Sat Apple Pie Motherhood Band / Wind in the Willows
29-31 Thur-Sat Albert King / Jeremy Steig & the Satyrs
Sept
5-7 Thur-Sat Ars Nova / Ford Theatre
12-14 Thur-Sat Buddy Guy / Quill
20-21 Fri-Sat Eden's Children / J Geils Quintet
27-28 Fri-Sat The Velvet Underground / Fire and Ice


This is a flyer that I stuck in my back pocket in '68. It was folded and eventualy split in two and was in horrible shape. Now, with the magic of Photoshop it is back together.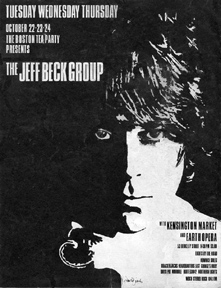 Oct
3-5 Thur-Sat Rhinoceros / Quill
10-12 Thur-Sat Ten Years After / The Listening
17-19 Thur-Sat John Mayall & the Blues Breakers/ Bones
22-23-24 Tue-Thur Jeff Beck / Kensingtom Market/Earth Opera
25-26 Fri-Sat Headstone Circus / Far Cry
31 Thurs James Cotton Blues Band / SRC
Nov
1+2 Fri-Sat James Cotton Blues Band / SRC
7-9 Thur-Sat Terry Reid / The McCoys
14-16 Thur-Sat Buddy Miles Express / Dino Valente
21-23 Thur-SatJ. Giles Blues Band / Listening
29+30 Fri-Sat Lothar and the Hand People / The Cloud
Dec
5-7 Thur-Sat Pacific Gas and Electric / The Quill
12-14 Thur-SatThe Velvet Underground / MC5
19-21 Thur-Sat Fleetwood Mac / Ill Wind
26-28 Thur-SatCharles Musselwhite Blues Band / The Listening
1969
Jan
2-4 Thur-Sat B.B. King / Fire and Ice
9-11 Thur-Sat The Velvet Underground / Holy Modal Rounders
16-18 Thur-Sat Mother Earth / The Insect Trust
22 Wed The Velvet Underground The Tea Party Birthday Party… Free Admission.
23-25 Thur-Sat Led Zeppelin / The Raven
30-31 Thurs-Fri Savoy Brown Blues Band / J. Geils Blues Band
Feb
1 Sat Savoy Brown Blues Band / J. Geils Blues Band
6-8 Thur-Sat Lothar and the Hand People / The Raven
13-15 Thur-Sat Jethro Tull / Silver Apples
20-23 Thur-Sat The Byrds / The Flying Burrito Brothers
27-28 Thurs-FriBuddy Guy/ Woody's Truck Stop
March
1 Sat Buddy Guy / Woody's Truck Stop
6-8 Thur-Sat Chicago /J.Geils Blues Band
13-15 Thur-Sat The Velvet Underground / Wilkinson's Tricycle
16 Sun Barry and the Remains / The Lost
20-22 Thur-Sat The Nice / The Raven
27-29 Thur-Sat Rhinceros / Aynsley Dunbar
April
3-6 Thur-Sat Julie Driscoll, Brian Auger & Trinity/SRC
11-13 Fri-Sun Family/Sweetwater
18-20 Fri-Sun Albert King/Big Mama Thornton


Posters after this have the Landsdown Street address.

Ticket stub courtesy of Joan Kershaw.
The red 'Krackerjack' stamp shows it was sold at that clothing store.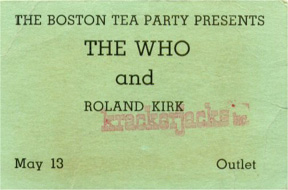 May
6-8 Thur-Sat Jeff Beck Group w/Rod Stewart/ The Nice
9-11 Thur-Sat Poco/Family
13-15 Thur-Sat The Who / Roland Kirk
16-17 Sun-Mon Joe Cocker Grease Band / Roland Kirk
22-23 Thur-Sat Bonzo Dog Doo Dah Band / It's a Beautiful Day
27-29 Thur-Sat Led Zeppelin / Zephyr
30-31 Sun-Mon Velvet Underground / Allman Brothers Band
June
5-7 Thur-Sat Delaney, Bonnie and Friends (Eric Clapton) / Serfs
12-14 Thur-Sat Johnny Winter/ The Raven
19-21 Thur-Sat Dr John the Night Tripper/Allman Brothers
23-24 Mon-Tue Savoy Brown Band/Crazy World of Arthur Brown
26-28 Thur-Sat Chicago Transit Authority/Alice Cooper
July
11 - Fri Velvet Underground
12 - Sat Larry Coryell/Country Funk/The Quill
14-16 Mon-Wed Procol Harum/Bloodwyn Pig
23-25 Wed-Fri Jethro Tull/The Free
26 Sat Tom Rush/Terry Reid/ The Free
31-Aug 2 Thur-Sat Ten Years After/Magic Terry & the Universe
August
5-7 Tue-Thur B.B. King/Teagarden and VanWinkle
8+9 Fri-Sat Mother Earth/Teagarden and VanWinkle
14-16 Thur-Sat The Velvet Underground/The Serfs/Country Funk
21-23 Thur-Sat Savoy Brown Blues Band/Santana Blues Band
28-30 Thur-Sat Spooky Tooth/The Flock


Ticket stub courtesy of Joan Kershaw.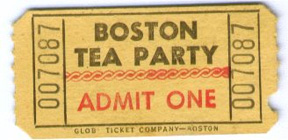 September
4-6 Thur-Sat Raven/Tyrannosaurus Rex/Don Cooper
9-11 Tue-Thur Ten Years After/ The Stooges
12+13 Fri-Sat Ricky Nelson/The Coasters/NRBQ
18-20 Thur-Sat Chuck Berry/Bo Diddley/Mountain
25-27 Thur-Sat J Geils Band/ Lonnie Mack/ The Move
30 Tue Mandrake Memorial/Apaloosa/Dirty John's Hot Dog
October
2-4 Thur-Sat Grateful Dead/Bonzo Dog Band
7 Tue Mocha Chip/Ascension/Boswell
9-11 Thur-Sat Spirit/Elvin Bishop Group/ Sha-Na-Na
16-18 Thur-Sat Steve Miller Band/ Liverpool Scene
23-25 Thur-Sat The Kinks/Lee Michaels/The Quill
30-Nov 1 Thur-Sat Super Session's Al Kooper/Aum/King Crimson
November
6-8 Thur-Sat Taj Mahal/Bloodyn Pig
11-12 Tue-Wed The WHO/Tony Williams
13-15 Thur-Sat Santana/ Grand Funk Railroad
20-22 Thur-Sat Mountain/Humble Pie/Eric Mercury
23 Sun The Incredible String Band
26-29 Wed-Sat Joe Cocker & Grease Band/Fleetwood Mac
December
4-6 Thur-Sat The Nice/Allman Brothers Band
8-9 Mon-Tue Jethro Tull
11-13 Thur-Sat Johnny Winter/Sons of Champlin/Ten Wheel Drive
19-21 Fri-Sun Sha-Na-Na/New York Rock and Roll Ensemble
26-28 Fri-Sun Fleetwood Mac/Tim Hardin
29-31 Mon-Wed The Grateful Dead


Ticket stub courtesy of Joan Kershaw.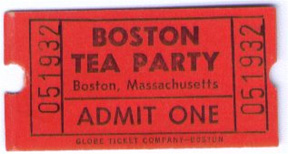 1970
January
2-3 Fri-Sat Mountain/Blues Project/Dion DiMucci
8-10 Thur-Sat B.B. King/Cold Blood/J Geils Band
15-17 Thur-Sat James Cotton Blues Band/Kaleidoscope
22-24 Thur-Sat The Byrds/Doug Kershaw
29-31 Thur-Sat The Staple Singers/MC5/Rhinoceros
February
5-7 Thur-Sat Fleetwood Mac/The James Gang
8-9 Sun-Mon Delaney & Bonnie & Friends w/Eric Clapton
12-14 Thur-Sat The Kinks/Rensissance
19-21 Thur-Sat Spider John Koerner & Willie Murphy/E Mercury
22 Sun NRBQ/Livingston Taylor/The Proposition/Club Wow
26-28 Thur-Sat The Everly Brothers/Sha-Na-Na
March
1 Sun Neil Young & Crazy Horse/Country Funk
2-4 Mon-Wed Ten Years After/Redbone
5-7 Thur-Sat MC5/Family/Stone the Crow
12-14 Thur-Sat Mother Earth/Argent/Mocha Chip
15 Sun Santana
19-21 Thur-Sat Youngbloods/Livingston Taylor/Seals & Croft
26-28 Thur-Sat Lee Michaels/Rod Stewart & Faces/Zephyr
April
2-4 Thur-Sat Mountain/Ronnie Hawkins
9-11 Thur-Sat Quicksilver Messenger Service/Sugar Creek/Roxy
12 Sun Pink Floyd
16-18 Thur-Sat Van Morrison/Blodwyn Pig/Blues Image
19 Sun Pentangle/Livingston Taylor
23-25 Thur-Sat Manfred Mann/Cold Blood
May
3-4 Sun-Mon The Incredible String Band/The Stone Monkey
7-9 Thur-Sat Buddy Miles/NRBQ/Ambergris
10 Sun John Sebastian/Ramblin' Jack Elliot
14-16 Thur-Sat John Hammond/Seals & Croft/The Insect Trust
21-23 Thur-Sat Little Richard
June
7-8 Sun-Mon Traffic/Fairport Convention/Sugar Creek
15-17 Mon-Wed Ten Years After/Mott The Hoople
18-20 Thur-Sat Poco/The Brethren
August
11-13 Mon-Wed The Byrds/Colosseum
September
10-12 Thur-Sat Fleetwood Mac/Fairport Convention
13 Sun Miles Davis/Osmosis
8-10 Thur-Sat Mungo Jerry/Humble Pie/Spider John Koerner


Boston Sound Home Page
Home | WLYN | WMBR | Boston Groupie News | Punk Photos | MP3's | Links
Jonathan Richman | Dogmatics Photo | Paley Brother's Story




Copyright © 2006 Paul Lovell. All rights reserved.