Home | WLYN | WMBR | Boston Groupie News | Punk Photos | MP3's | Links
Jonathan Richman | Dogmatics Photo | Paley Brother's Story
Boston Sound Home Page
Hippies - Love In in Boss Town
Time Magazine - July 12, 1968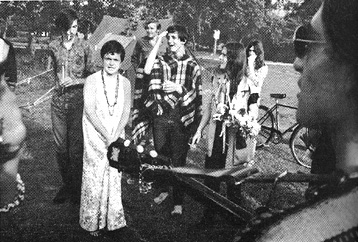 The tree-shaded Boston Common has been a cherished redoubt for the city's weary ever since British troops evacuated it 192 years ago. This summer it is being occupied by an antiforce, as hippies from all over the U.S. invade it for what may be the flagging flower world's last great love-in. They spend their days singing, sleeping and making love. As the hot weather sets in, they frolic in the Frog Pond or listen to rock concerts by such groups as the Ultimate Spinach.
&nbsp Oddly enough, some of the more proper Bostonians have bent over backward to try to help the flower children. Warned in advance of the invasion, Mayor Kevin H. White formed a committee of businessmen, clerics, resident hips, police and psychologists to resolve the hippies' hang-ups.
&nbsp The destitute are bedded down in churches and private homes, getĚ free medical attention at Cambridgeport Clinic and legal aid from volunteer lawyers. To keep the hippies busy, Parks Commissioner John Warner has supplied tools to clear 25 debris-cluttered city lots. Self-styled Hippie Agronomist John MacConnell, 30, a Syracuse University dropout, plans to plant corn in the lots because he thinks that "everyone should have a chance to eat sweet corn out of a garden."
&nbsp Common Marriage.
Most of the 1,300 nomads who have been drawn to "BossTown," as they call it, are not so ambitious. Moreover, as in San Francisco and New York, the hippie ranks have been infiltrated by hoodlums and narcotics peddlers. 'They aren't the classy hippies, the beatniks or bohemians," says Detective Sergeant Richard Crowley, whose District 2 includes the Common. "Many of them are just criminal types." Police have become alarmed by the peddling and use of drugs in the Common, and since April 1, some 600 hippies-or pseudo hippies-have been arrested on rape, robbery and narcotics charges, or for violating park rules. When complaints began flooding city hall, Councilor Joseph F. Timilty took a look and protested: "Hippies are urinating, defecating and fornicating in the Common. This must stop."
&nbsp Reacting to mounting civic fear, Mayor White slapped a 10 p.m.-to-7 a.m. antiloitering curfew on the Common. To protest the curfew, some 300 hippies held a candlelight parade through the Common, encouraging bystanders I to join. Unfortunately, some of the join- ers were teen-age thugs, and in a pro- I longed melee that flashed off and on for three days, 34 were arrested. Police said that only six of them were authentic hippies.
&nbsp Having been forced to evacuate the Common at night, the hippies have been given squatting rights in the Fens, a park behind the city's Museum of Fine Arts. Last week they held a typically unorthodox, nonlegal wedding presided over by a minister from the hippies' own Neo-American Church. The bride wore printed culottes and a necklace of appleseeds; the barefoot groom was in tattered Levi's and a Nehru jacket. After the ceremony, they danced to a throbbing rock band, then left for a protracted honeymoon on the Common.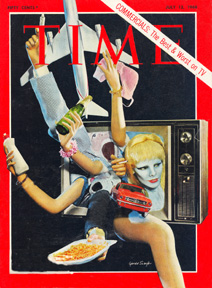 Boston Sound Home Page
Home | WLYN | WMBR | Boston Groupie News | Punk Photos | MP3's | Links
Jonathan Richman | Dogmatics Photo | Paley Brother's Story
Copyright © 2007 Paul Lovell. All rights reserved.