Home | WLYN | WMBR | Boston Groupie News | Punk Photos | MP3's | Links
Jonathan Richman | Dogmatics Photo | Paley Brother's Story
Boston Sound Home Page
Puff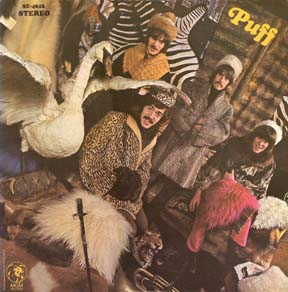 Puff has a connection to the early sixties group The Ramrods, originally called The Rockin Ramrods. I loved them in back in the day and Bright Lit, Blue Skies is a local classic.
Vin Campisi and Robert Henderson are the Ramrods who started Puff. Ronn Campisi wrote all the songs on the album but supposedly was not a member.
The Puff album didn't get as much attention as some of the other Bosstown Sound albums it seems to me.The album is produced by Alan Lorber so it has his production values and is on MGM Records.
It's a calm sounding album. No real loud rock moments. There are many nice passages and it grows on you the more you hear it. It is a favorite of Alan Lewis of the NEMS site. His Puff page.
Boston Sound Home Page
Home | WLYN | WMBR | Boston Groupie News | Punk Photos | MP3's | Links
Jonathan Richman | Dogmatics Photo | Paley Brother's Story
Copyright © 2007 Paul Lovell. All rights reserved.