Home | WLYN | WMBR | Boston Groupie News | Punk Photos | MP3's | Links
Jonathan Richman | Dogmatics Photo | Paley Brother's Story
Boston Sound Home Page
Listening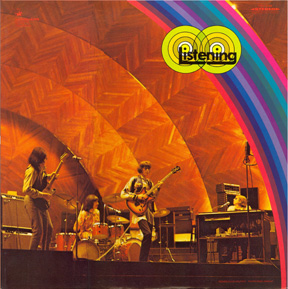 Listening have to be the most underappreciated group in the whole scene. Instrumentally and vocally they were tops. Michael Tschudin who seemed to be the leading force was an accomplished piano player and an inventive organist utilizing his Hammond B-2 with adroitness. Bassist Walter Powers started with The Lost and ended up in many Boston groups up to the punk era. We used to wonder at guitarist Peter Malick. "He's how old?', we would ask in jealousy. He was much too good to be in his teens. The album shows him in a good light. You can hear those blues riffs he would build on in his career playing with some blues legands (Otis Span, John Lee Hooker) and eventually 'discovering' Nora Jones! This is a supprise offshoot to this whole story. You can read about that at Peter Malick's own website. Peter Malicks Website.
There's a good story in the Music Museum of New England. It tells of his audition with Listening.
Song structures in their 1968 LP are complicated. No three chord songs for these guys. They sound like they could be Berkeley grads. Lots of blues and jazz influenced riffing. They also had a latin rhythm thing going at times and actually get into Santana style grooves once or twice. They also get into some spacy grooves. Always tasty and controlled even in their 'stoned' jams. There is 'phasing' on some cuts. I love the songs but I have to admit I have listened to this LP so many times that I have lost all critical impartiality . Now there's something you don't hear people admitting. Coming at this new you might have to listen to it a few times before it sinks in.
Local legend Willie 'Loco' Alexander from the Lost gets on a cut.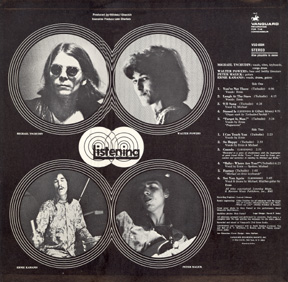 The album cover is another reminder of the Bosstown Sound days. It is a picture of them playing at the Esplanade's Hatch Shell in Boston during a Bosstown Sound rock concert. I never hear people talk about this but this was a big deal, at least it seems to me. I can't remember the Hatch Shell having a rock event ever before this. The Shell is where the Boston Pops would play. The Pops would do the Fourth of July concert there. It was all about the fuddy duddys. All of sudden we had about 10 rock groups playing. The place looked packed to me as I walked around and wondered where all these people came from. I think there was about 14,000 people. I seem to remember reading that in the paper the next day. In any case, they had trouble, of course, and vowed to never have rock there again. This has happened now and again up to the current day. The last time was a Green Day concert that got out of hand. Long live rock n' roll.
The album was rereleased in 2007 on CD by Akarma Records but as far as I can tell now that's stopped. Some of those CD's can be bought second hand if you check the web.
Personnel

Michael Tschudin: vocals, vibes, keyboards. conga drum
Walter Powers: bass and feelthey literature (sic).
Peter Malick: guitars
Ernie Kamanis: vocals, drums, guirro
Most songs writen by Tschudin.
Vanguard Recordings - VSD-6504
What happened?

Tschudin latter went to a group called Cynara.
Walter Powers went on to play in many groups including some punk ones in the latter 70's'.
Peter Malick is still playing with success.
Ernie Kamanis - Played guitar for Andy Pratt and Boz Scaggs and latter had a solo career.
A post LP single. Hello You is poppier than anything else they did. The flip, Life Stories, is a 5:30 minute opus that has more change-ups in the song structure than you would normally find on a 45 single. Very tastefull keyboard action on both sides.




Michael Tschudin post Listening group was called Cynara.
The 1970 LP is a jazzier affair with no guitarist. He does reprise The Listening song
Stoned Is.





Walter Powers and ? at the Middle East show
with Reddy Teddy and Willie Loco. 2/2/2009.


Billboard Review - Dec 21,1968
Boston Sound Home Page
Home | WLYN | WMBR | Boston Groupie News | Punk Photos | MP3's | Links
Jonathan Richman | Dogmatics Photo | Paley Brother's Story
Copyright © 2006 Paul Lovell. All rights reserved.