Home | WLYN | WMBR | Boston Groupie News | Punk Photos | MP3's | Links
Jonathan Richman | Dogmatics Photo | Paley Brother's Story
Boston Sound Home Page
KANGAROO
Kangaroo got a brief dismissal in Patricia Kennealy's book Strange Days: My Life With and Without Jim Morrison.
The Who , playing second on the bill after an unwanted opener called Kangarooo and before the headlining Doors, do their usual destructo-derby, but it looks bogus, and they play a lackluster set anyway.
Singer Barbara Keith had some solo albums later..... http://www.nickdrake.com/talk/viewtopic.php?t=5596
Kangaroo had an interesting push by MGM. They released three singles at one time. This ad is from CASH BOX July 27, 1968.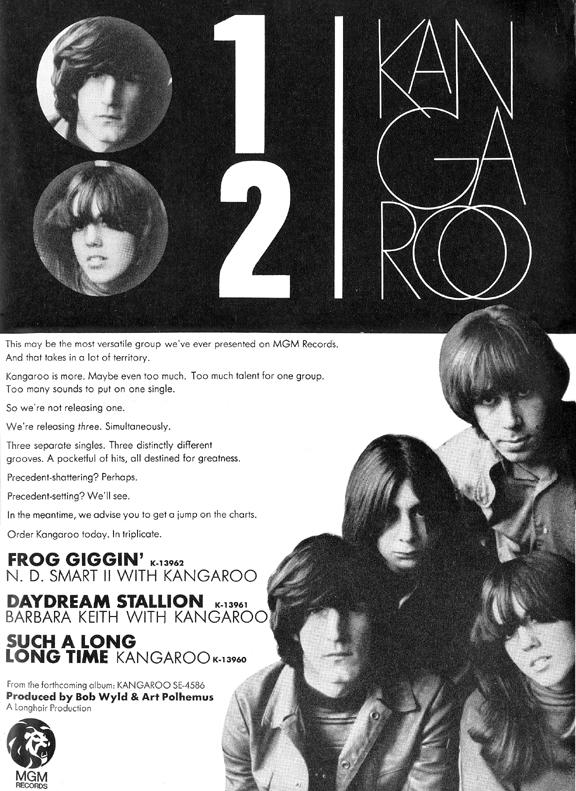 Also in the same issue is a short review of two of the songs.

Boston Sound Home Page
Home | WLYN | WMBR | Boston Groupie News | Punk Photos | MP3's | Links
Jonathan Richman | Dogmatics Photo | Paley Brother's Story
Copyright © 2010 Paul Lovell. All rights reserved.