The bands on the Bosstown Sound pages were active around 1968-69 and most got recorded. Boston rock didnít start there of course. There is a whole world of bands that played in the early sixties. Most of them were cover bands who never recorded. Regardless they were what everyone was going out to see in those English Invasion/garage rock days.
The Chosen Few, based in Brighton Mass, were one of those bands.
---
Here are some highlights from the members of the Chosen Few:

We played many gigs from around 1965 to 1969 throughout the Boston area. The founding members of the band were: Artie Kanavos, lead singer and the groupís brilliant manager; Bobby ďDukeĒ Murphy on drums, Elliot Sarantakos on bass; Gerry Cohen on rhythm guitar, later replaced by Chris Hewitt, and Mike Shagoury on lead guitar.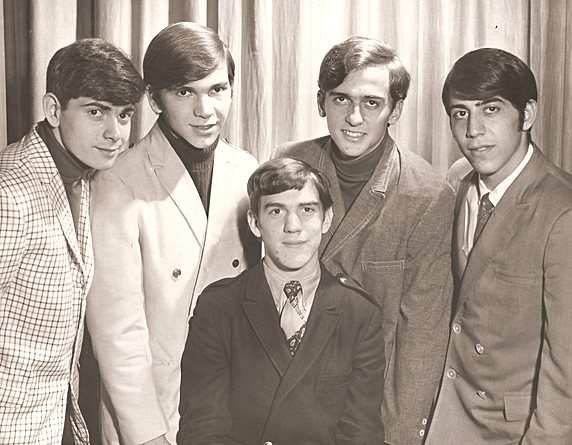 Left to right standing, Bobby Murphy, Elliot Sarantakos, Artie Kanavos, Mike Shagoury, and seated front and center, Chris Hewitt.
We were the house band for Where Itís At, located at the time at the intersection of Brighton Ave and Commonwealth Ave. We worked there for the owner, Ruth Clennott, who also produced or co-produced Community Auditions for Dave Maynard of WBZ-TV, consequently landing several gigs with Dave. One was at Canobie Lake Park, in New Hampshire. We were the featured band at Pleasure Island in Wakefield, Mass, and appeared on the tube on New Hampshire Bandstand, with Bill Jones.
We were very popular at the time, playing Thursday and Friday nights at Where Itís At, and spots such as The Surf Salisbury, The Rexicana Ballroom in Marshfield, The Met in Brighton Center, and numerous college mixers. We were friends with The Shillings, a superior band from the Boston area.
One anecdote from yesteryear is still clear in my memory: Ruth Clenott arranged a private show with a really fine band from Georgia, called The Candymen, and she invited all of the local Boston disc jockeys to attend in order to promote this group.
In attendance were Arnie Ginsberg, Larry Justice, Ron Landry (WBZ) and other jocks. We opened for The Candymen that night and they were a very tight, terrific band. They had a few hits, went on to back Roy Orbison, and later became the Atlanta Rhythm Section.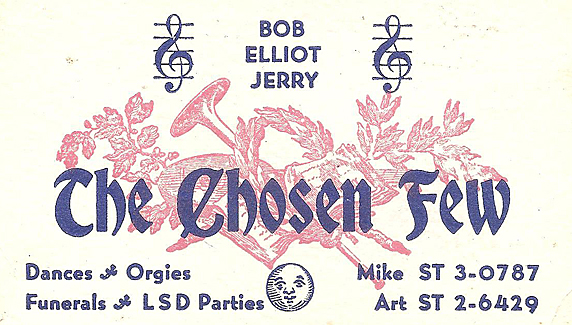 The band's business card looks kinda silly today, but we were teenagers at the time, prone to silliness!
Michael's guitars

| | |
| --- | --- |
| 1959 Guild Starfire. | '61 Les Paul Junior |
I played lead guitar, but honestly, Chris was a much better guitarist than I, and he taught me so many of the licks I played.
My guitar of choice at the time was a 1959 Guild Starfire, which I still own. The Guild is a really sweet guitar which is worth a lot of money now, but I would never sell it. I also played a 1961 Les Paul Junior Double Cut, which I bought in Providence for a mere $45.00. Today, it's worth in the $6000.00 range. I'm in the process of rehabbing the Les Paul.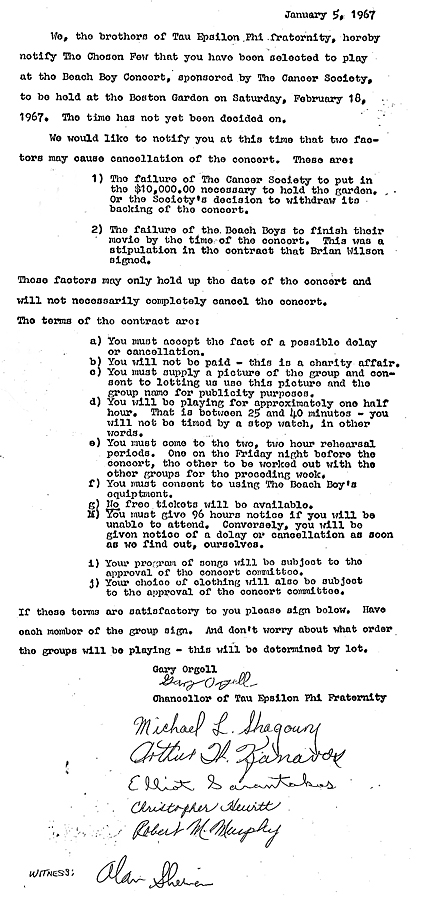 Above is a contract we signed to open for the Beach Boys at BU which never took place because the Cancer Society would not put up the 10 grand to hold the Boston Garden.
We played so many gigs, I can't remember them all. One that comes to mind was at Catholic Memorial, opening for a local band called The Pilgrims. The sax player was Lenny Baker who went on to be a founding member of Sha Na Na.
We played churchs, CYOs, YMCAs, bars, you name it, we played there. Some of the most fun gigs were at frat parties because they paid really well, the frat boys would be smashed within an hour and we could cruise through the gig, often playing songs that were works in progress that we would never try out at another gig.
The band played at Where It's At. The house Band before us at Where It's At was The Beacon St Union.
---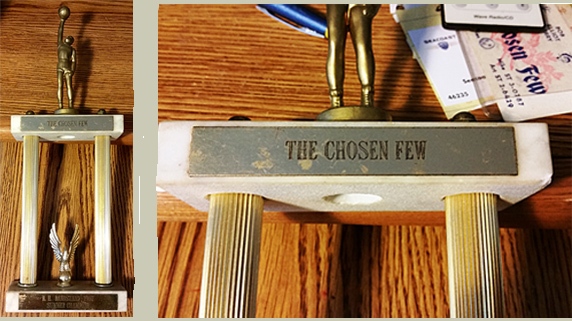 They are shots of the trophy we won in '67, winning the Battle of the Bands, enabling us, as winners, to appear on NH Bandstand. NH Bandstand was a weekly show modeled after Dick Clark's American Bandstand. Bill Jones, who started as a DJ for WMEX in Boston originated the show which aired on WMUR-TV in Manchester.
Funny thing is that I couldn't watch it because the signal that reached Brighton was too weak to watch on our black & white TV, and we didn't have a roof antenna. Artie Kanavos, however, had a beautiful RCA color TV and a rotating roof antenna, so we would watch the show at his house, little thinking that one day we would appear on the show.
If you look at the figure on the top of the trophy, you will see it is that of an athlete holding up a basketball. The back story is that somehow the original figure broke off, which bummed us all. My dear father said he could fix it, with us believing it would look close to the original. Not so much! He used the figure from one of my brother's many sports trophies he received as a star athlete at Brighton High.
---
ED: Mike also supplied a set list from a show they did at Where's It's At. He has the written list scan and then the more readable typed list. This is like an archeology dig. This song list represents what most bands were playing in this time period. If you look at albums by garage groups around this time you will see many of these songs.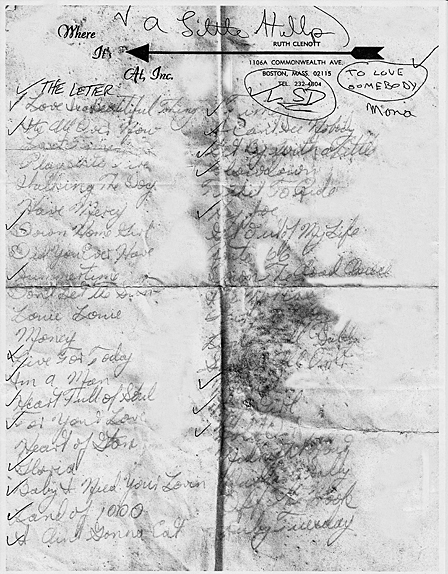 The Letter
Love Is A Beautiful Thing
It's All Over Now
The Last Time
Play With Fire
Walking The Dog
Have Mercy
Down Home Girl
Summertime
Don't Let The Sun Catch You Cryin'
Louie Louie
Money
Live For Today
I'm A Man
Heart Full Of Soul
For Your Love
Heart Of Stone
Gloria
Baby I Need Your Lovin
Ain't Gonna Eat Out My Heart
Time Is On My Side
I Can't See Nobody
A Little Help From My Friends
Slowdown
Ticket To Ride
Hey Joe
Route 66
Down The Road Apiece
It's Not Easy
Long Tall Sally
Shakin All Over
Mona
My Girl
Midnight Hour
Mustang Sally
C C Rider
Gotta Get Out Of This Plac
Under My Thumb
Shout
Get Off My Cloud
Satifaction
To Love Somebody