Home | WLYN | WMBR | Boston Groupie News | Punk Photos | MP3's | Links
Jonathan Richman | Dogmatics Photo | Paley Brother's Story
Boston Sound Home Page
Boston Rock Pre 1967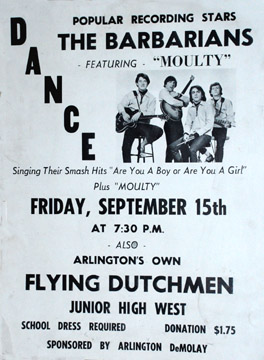 I went out to dances just about weekly and sometimes twice a week during the mid sixties.
This is a list of the few band names I remember I saw.......

The Tallysmen
The Chosen Few
The To-eds
The Shillings
The Heightsmen (from Boston College aka 'The Heights')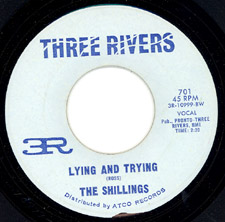 There is one story concerning The Shillings. They played regularly in the Brighton area. To our surprise we heard a song called Lyin' and Cryin' by The Shillings being played on the radio. Of course we asked the band if it was them and of course it wasn't, they weren't even playing the song. I think they also didn't use the article THE and they called themselves simply Shillings.
The song started getting pretty good play and eventually the band did start playing the song all the while disavowing any ownership but people just expected them to play the song and they did it pretty good too. I did get the 45 on the Three Rivers label and always loved the song as one of those American attempts at sounding English.
Now we jump ahead 40 years and I'm in NYC and see a compilation of Allentown, PA rock bands and The Shillings are in there. The liner notes say that the song was only a local hit in Allentown, Connecticut and Boston. So, that rest of the country wasn't aware of this neat song. The CD is put out by Distortions Records and is available at the website in a limited pressing of 1000.
I'm aware that this seems like mindless minutiae to some but it's the stuff of local color that fascinates me. What can I tell ya?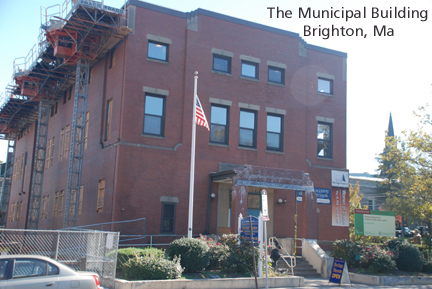 The picture above shows what we called the Municipal Building. It is located about a block from the Crosstown Bus. It is at the beginning of Chestnut Hill Ave in Brighton Center. There were weekly dances here on Friday and Saturdays. The space was on the first floor just inside the front door.
| | |
| --- | --- |
| The NE TEEN SCENE CD can be obtained at the ARF ARF site. That is local legend Eric Lindgrin's site. | Allentown Anglophile is put out by Distortions Records |
| The Improper Bostonians had all sorts of gigs around town in the early sixties. Their records got some play on the local stations. | I saw the Ramrods open for the Rolling Stones in 1965 at the Boston Garden. |
| A major label with a bad print job. This was a small hit. | One of Teddy and Pandas singles. |
Boston Sound Home Page
Home | WLYN | WMBR | Boston Groupie News | Punk Photos | MP3's | Links
Jonathan Richman | Dogmatics Photo | Paley Brother's Story
Copyright © 2008 Paul Lovell. All rights reserved.