Home | WLYN | WMBR | Boston Groupie News | Punk Photos | MP3's | Links
Jonathan Richman | Dogmatics Photo | Paley Brother's Story
Boston Sound Home Page
The '60's Boston Scene

By Lawrence Azrin

This is an article from a small Boston fanzine called Killer Children from 1980.
Lawrence Azrin has been a DJ in Framingham and most recently
on the Lost and Found show on WMBR.
Larry no longer does a radio show which is a big loss for rock music fans in Boston .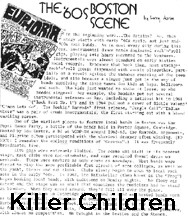 In the beginning were. . .The Remains? No, this story starts with early '60s music, not just mid '60s rock bands. As in most every city during this era, instrumental dance bands dominated rock 'n' roll gigs, playing sets heavily indebted to The Ventures. Instrumentals were almost standard on early sixties local records. Remember that back then, most straight rock 'n' roll groups dispensed with vocals altogether, partially as a revolt against the vacuous crooning of the teen idols, and also because a singer just got in the way of bands supplying the dance tunes for kids at hops, ballrooms and such. The kids just wanted to shake it loose, so who needed singers? For example, The Rondels put out several instrumental releases on Amy, including a national hit in 1961 ("Back Beat No. 1") and in 1964 put out a cover of Richie Valens' "C'mon Lets Go". The Rockin' Ramrods' first release, "Jungle Call"/"Indian Giver" was a pair of crude instrumentals, the first starting out with a blood curdling scream.
One of the earliest places to feature local bands in Boston was the Pepsi Dance Party, a battle of the bands held in Porter Square, Cambridge. Hosted by Ken Carter, a DJ at WCOP-AM around 1962-63, The Ramrods, Argonauts, and The Pilgrims often participated with the showiest drummer often winning. (ED NOTE: I remember the endless renditions of "Caravan".) It was frequently broadcasted live. Live gigs were extremely limited. The scene was still in its nascent stage, most clubs were non-alcoholic, and some required formal dress on weekends. There were nowhere as many clubs as nowadays. Most bands were forced to play the more profitable frat circuit of area colleges, as well as the yacht, tennis and ski clubs. Clubs slowly began to open to local rock acts in the early '60s. In 1962, The Rathskellar (then known as the "Frog") began booking local bands, with auditions on Monday nights. The floor was cement and the stage was so small that sometimes the musicians had to stand on benches. When they moved around, they'd fall all over the place.
The Banjo Room in Cambridge also opened in 1962 and hosted bands such as The Remains, Lost, Barbarians and occasionally groups such as Sylvia Burtons' Wild Ones from New York, until it burned down in the mid-sixties. As for the big out-of-town acts, Frank Conley was the biggest area promoter, with almost no competition. He brought in The Beatles and the Stones.
There was a whole separate scene on the South Shore, with teen clubs near the beaches. One of the more prominent was The Surf Nantasket Ballroom in Hull, owned and run by Bill and Wilma Spence. The Rockin' Ramrods were the house band 1963-67. The Cape had The Teen Scene in Hyannis and The A-Go-Go (a big cement warehouse) in West Yarmouth. Taunton had its Cotillon and in Brockton was The Brockton A-Go-Go which became Euphoria in 1967. Between '65 and '67 the Animals, Miracles, Remains, Lost etc., all played these clubs for those 16 and over.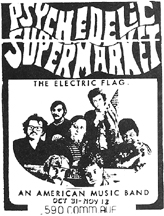 In 1964 "Where It's At?! opened its doors in Boston and allowed local bands to open for the likes of Jerry Lee Lewis, Mitch Ryder, Sam the Sham and The Blues Project. The club moved three times, ending up (in 1968) in Kenmore Square where Lucifer's is now located. (ED NOTE: it was, at one point, located above The Underground [A early eighties punk club].) It was run by Ruth Clemens who worked then, and still does now, on Community Auditions.
By 1967, the 'underground' rock scene was flourishing, and Boston was ready for a showcase for the newly emerging progressive bands such as The Doors and The Jefferson Airplane. The Boston Tea Party was the HIP place to go if you were a member of the counterculture in the late sixties. John Kriedl (local writer and founder of Vibrations magazine) called it Ray Ripen's attempt to establish a Fillmore East. Riepen came here in 1966 to enroll in Harvard Law School's Masters Program. A family friend, Jessie Benton (daughter of artist Thomas Benton Hart) wanted a divorce in order to marry Fort Hill's (a radical commune) leader Mell Lyman. Riepen did the deed and later took over Lyman's lease to the Moon Dial (formerly a synagogue on Berkeley Street) and turned it into a cinemateque that screened underground films by the likes of Andy Warhol. In '67, in partnership with David Hann, he transformed it into The Tea Party.
The Tea Party opened on the second week in January with the Willie "Loco" Alexander's Lost (who broke up shortly afterwards) and The Hallucinations (i.e., early J. Geil's band) By April 1967 they had gone national with the Velvet Underground who played there quite often (it was their favorite club; the back cover of their second LP was taken on its steps.) Being the only dance hail east of the Fillmore, they began attracting many national and English acts. Riepen hired Harvard Law School grad, Steve Nelson, as general manager and when WBCN began its ascent as an underground station in 1968 he turned operation of the club over to him. Management of the club was later turned over to none other than Don Law.
When the Tea Party moved to 15 Landsdown Street Riepen claims to have lost $150,000 on the deal. Aiming at an "alternative media" monopoly, he bought out the Boston Phoenix with Richard Missner, and was later bought out by Missner for $90,000. (The Phoenix later split in two, half of which became a collective--The Real Paper and the other half keeping the name The Boston Phoenix. Confusing, huh?). Along with the $280,000 he got in September for selling his shares in WBCN, Ray Riepen happily retired to California.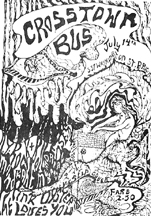 Also opening in 1967 was The Crosstown Bus on Washington Street in Brighton. It held The Doors first Boston concert in early '67 but was closed down in about four months because it didn't have the correct licenses and the cops busted the place frequently. The Catacombs opened on Boylston Street near Berklee College and featured local folk and rock but was never well attended and soon folded. The Psychedelic Supermarket (located where Kix and the Nickelodeon Cinema in Kenmore Square are now) was a blatant attempt by George Popadopolis to cash in on a trend. He had run the Unicorn, a Boston folk club, for some years before deciding to expand in early 1968. Seating of 300 was in the lower tier of a garage that was completely concrete, except for the stage. Cream played a memorable gig there in February '68 not to mention Janis Joplin d the Holding Company. Stories of Popadopolis' financial finagling are a legend.. . groups would cancel contracts and leave because they would be paid less for long stands. The exposure was supposed to make up for the lesser pay!! One out of two bands would leave a gig after one set for various reasons and regular club-goers remember him raising ticket prices from $4.50 to $5.50 when he knew that a show was going to sell out.
The first legitimate rehearsal studio in the area opened on River Street in the late sixties. It was run by Dick Chandler (Willie "Loco" Alexander's cousin) and consisted mainly of one huge room. It served as a meeting place for local musicians.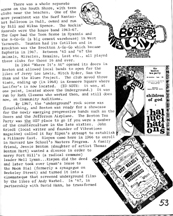 Unfortunately, the sad truth of the Boston '60s rock and roll scene-- behind the thick accumulated veneer of myths--is that it failed to produce one act that had the staying power and musical talent to achieve any length of national success (with the exception of The J. Geil's Band). Several groups, such as The Remains and The Barbarians, came close to that fame but they simply weren't together long enough to make more than a momentary impact.
As John Kriedl pointed out to me, there was a basic social dividing line around 1968...the lower middle class went to a Rolling Stones concert while the upper middle class were into the folk rock scene and were converted to rock and roll only by folk-rockers such as The Byrds. This explains, perhaps, Boston's non-attention towards its local rock talent in the '60s. As far as the clubs' owners were concerned there were only two levels of groups...ones that had records out and the ones that didn't. Without any local labels to record the garage bands regularly, many bands had to either issue records on their own labels (that is if they could afford it) or search for a major label offer to record them (and probably move their style closer to main-steam pop...an all too familiar problem.) Many of those '60s garage bands in Boston never did get recorded and hence are remembered only as local legends... that is, if they are remembered at all. Therefore, a good part of the Massachusett's '60s rock and roll legacy the is lost to us forever.
Boston Sound Home Page
Home | WLYN | WMBR | Boston Groupie News | Punk Photos | MP3's | Links
Jonathan Richman | Dogmatics Photo | Paley Brother's Story
Copyright © 2006 Paul Lovell. All rights reserved.