Home | WLYN | WMBR | Boston Groupie News | Punk Photos | MP3's | Links
Jonathan Richman | Dogmatics Photo | Paley Brother's Story
Boston Sound Home Page
BAGATELLE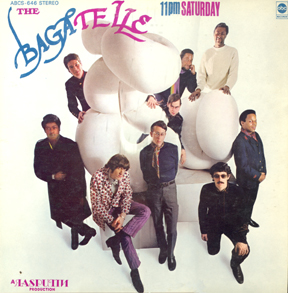 I'm going to let Alan Lewis do the heavy work here. The following is from his former site the New England Music Scrapbook…..
The Lost was a truly legendary mid-1960s Boston rock and roll band. Three members of the Lost -- Willie Alexander, Lee Mason, and Walter Powers -- at times performed as part of Lost shows, calling their trio the Mere Bagatelle. When the Lost broke up, Mason organized what became a new nine-member outfit, the Bagatelle. Though neither of his Mere Bagatelle mates accepted the offer to join the new group, sometime later Willie Alexander replaced Bob Degan in the lineup. The Bagatelle opened for acts ranging from the Temptations to the Yardbirds, and other then-hot bands such as Moby Grape and Procol Harum. At one time or another, the Bagatelle worked a mime and a fire eater into the act.

The Bagatelle's sole album, 11 P.M. Saturday, includes both live and studio recordings. It's heavy on covers -- excellent ones -- of songs that were hits for the likes of Sam and Dave, James Brown, and Sam Cooke. Lillian Roxon, in her groundbreaking Rock Encyclopedia, noted that the Bagatelle album includes "a nice piece of musical satire." A few tracks, such as the traditional, and very beautiful, "Every Night When the Sun Goes In," vary the program wonderfully. "Everybody Knows" and "Back on the Farm" feature Willie Alexander. "Everybody Knows" is an essential Alexander performance -- a song that he originally recorded with the Lost.
Through the years I have looked at Bagatelle through the prism of Willie Alexander's career but there is more here than just that. Alexander however is such a huge part of Boston rock and roll that it is important to note where that fits into the story.
Another ingredient is this album/story is Tom Wilson. He was a major talent in the music industry at this time. Having his attention and power was a big plus to a new group like Bagatelle. The album is a Rasputin Production by Tom Wilson. You can read the accompanying article about Rasputin to get an idea of how Bagatelle was part of a bigger picture by Wilson.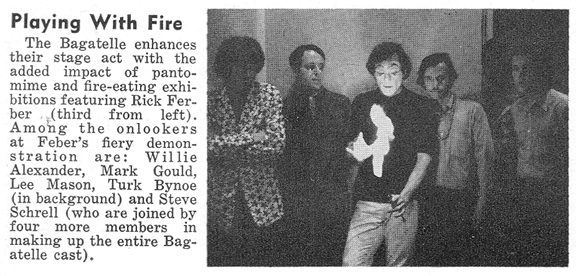 From Cashbox July ,1968

From Cashbox July ,1968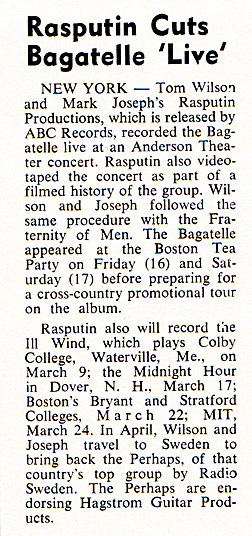 From Billboard March 9 ,1968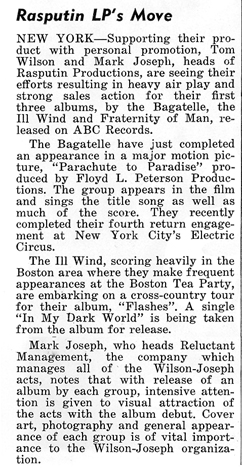 The album starts out with a two minute orchestral introduction. The production on this is very good, maybe too good because when the group actually kicks they sound light in comparison. This was not the case with Orpheus or the Beacon Street Union when they did the same thing. The intro sounds like a TV soundtrack and totally extraneous to the LP.
They have received praise for the soul covers but at this date they don't seem too effective to me as far as making a music statement goes but they are done well. I have a similar reaction to the selection of oldies they cover, they come across as too retro for a group at this time. The loosy-goosy feel of Back On the Farm is a plus, along with the horns and Willie's patented vocals it all adds up to a bouncy success. I agree with Alan that Everybody Knows is important in the context of Willie's story.
Four songs into side two all of sudden it's a 'live' album. That's just an odd thing to do and you have to reorient your listening at that point.
All and all it's a bit of a jumble but still entertaining.
They got Paul Williams of Crawdaddy to write a short blurb on the back.
We now turn to an issue of GO Magazine from February 23, 1968. Loraine Alterman caught a show at the Anderson Theater in NYC featureing Procol Harem, Moby Grape and Bagatelle. She did not like Bagatelle and she thought Procol Harem had a bad audio mix too.
She says:
"Worst of all the first hour was turned over to an eight man Boston group called The Bagatelle who seemed to be refugees from R and B , jazz, folk, rock and who knows what else. The three lead singers could sing well but we've all heard Knock an Wood and Please, Please, Please at least once too often. The total effect was deadening. Their back-up band did an extended jazz-oriented instrumental which achieved the same result as sleeping pills. The Bagatelle, however, should be given the jack-of-all-trades (or should it be bags?) gold star since in the course of their hour they did R and B, folk, spoofs on some oldies - but - goodies and jazz."
Ouch. It does confirm that their stage show was like the LP and vice versa.
Boston Sound Home Page
Home | WLYN | WMBR | Boston Groupie News | Punk Photos | MP3's | Links
Jonathan Richman | Dogmatics Photo | Paley Brother's Story
Copyright © 2010 Paul Lovell. All rights reserved.