Home | WLYN | WMBR | Boston Groupie News | Punk Photos | MP3's | Links
Jonathan Richman | Dogmatics Photo | Paley Brother's Story
Boston Sound Home Page
Apple Pie Motherhood Band
| | |
| --- | --- |
| First LP | Second LP |
It's been so often repeated that the Bosstown Sound groups had no common sound and that's the reason the Bosstown Sound campaign died a horrible death. It is true that the main three groups presented (The Spinach, The Union and Orpheus) did not sound alike, but there were similarities in the groups in the scene as a whole. Most groups were psychedelic, they had keyboards, organ and fuzz quitars; and they would combine 3 minute songs with longer 7 to 10 minute songs or jams, mostly of a moderate tempo.

The Apple Pie Motherhood Band would illustrate this. They are a good, not great, band. They had good vocals with all of the members singing (so says the liner notes). It's all pleasant enough with a few nice tunes and touches. They really can't sustain interest in the longer numbers, so it's good they mostly keep to 3 minute songs.
The short liner notes glorify their connection with "Boss Town" and the Boston Sound. It wouldn't be long after that the connection would be like a pair of concrete shoes.
The first album is on Atlantic (Atlantic SD 8189) and the song Apple Pie was produced by Felix Pappalardi!! I get so envious when I hear all these nicely recorded efforts done in good studios when I think of the trouble Boston bands would have in the late seventies trying to get a good recording and no record company would touch them. The result then was sub par recordings or no recordings.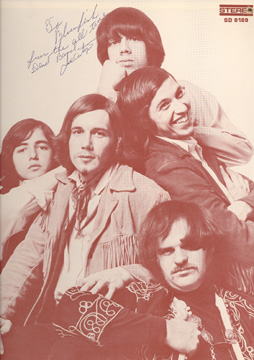 Their first song to get radio play was Apple Pie. Dick Summer on WBZ played this into the ground. I just loved it and like it still. The airy organ riff is a catchy diddy and the background vocals pull you in. The original tape (or maybe a 45) has a woman singer and that's always the way I hear it in my head although it is sung by a male on the LP. Here is a clip of some of the song with the girl singing which I captured on the WBRS show that is presented on the main page. I think the girl gives a strong Grace Slick vibe to the song......Click for a slice of the Apple Pie Motherhood Band

I was very surprised to find out that the person working beside me in 1981was a member of the band. He was Joe Castagno the rhythm guitarist. Joe told a few stories one of which was the fact that they sacked the woman singer because she couldn't stay in tune. She sounded alright to me on the record. Joe was selling albums by obscure Boston groups who did vanity recordings, maybe he still is.
The band lucked out with a second album on Atlantic with Tom Dowd at the board. Despite the break the material here falls short. There are three covers, two of which begin to head towards the boogie band excess that would wear needles out in the seventies. The first song Orangutang sounds BIG and builds up a big head of steam and is the best thing here. Dowd gets a very good guitar sound as you would expect and two tracks them at times to get a nice sound. I like it better when it veers toward the psychedelic but that is not often enough.
July 2007: I'm happy to say I got an email from Joe Castagno and he has found the members of the group recently and gives an update ; "I became a police officer for the city of Cambridge, MA...I retired last year......Lets see about the other guys.....Ted Demos lives in Venice Beach and still wants to be a rock star.....Jeff Lebas who played Keyboard lives in the San Francisco bay area and teaches music in a public school and does assorted piano gigs on the side.....Richard Barnaby lives in Boulder City NV and does computer programming....and Jack Bruno played for Tina Turner for about 20 years and last I heard he was on tour with Joe Cocker......Jack lives in the Nashville TN area."
The two albums have just been rereleased (as of 10/2007) on Collectors Choice Music - First Album and Second Album with some good liner notes that tell their story by Richie Unterberger.
Band Members

Jeff Labes - Organ and piano
Ted Demos - Lead guitar
Joe Castagno - Rhythm guitar
Jackie Bruno - Drums
Richard Barnaby - Bass
Boston Sound Home Page
Home | WLYN | WMBR | Boston Groupie News | Punk Photos | MP3's | Links
Jonathan Richman | Dogmatics Photo | Paley Brother's Story >
Copyright © 2006 Paul Lovell. All rights reserved.